Is Your WhatsApp Account Green Tick

Verified?
If not, why wait? Contact us today and get your business account verified to increase brand loyalty and gain business growth. The process for verifying a business on WhatsApp is distinct from the verification process for WhatsApp API.
This tutorial will guide you through the steps of obtaining WhatsApp business verification and explain how to do it effortlessly. It's worth noting that while a business may be authorized to use WhatsApp APIs, they may not necessarily have a Green Tick verification badge.
What is WhatsApp green tick?
The WhatsApp Green Tick is a symbol that displays on your WhatsApp API number profile. Its appearance signifies that your Business profile has undergone a successful verification process by WhatsApp, indicating that you are an Official Business Account.
Benefits of WhatsApp verified badge?
✅ The Green tick badge signifies that your brand is authentic, distinctive, and reliable.
✅ Obtaining the Green tick badge can decrease the frequency with which your customers block you.
✅ It may also enhance the read rate of your messages, resulting in a higher return on investment (ROI) for your messaging expenses.
✅ It can eventually become an integral part of your overall branding.
✅ Customers can view your brand name even if they don't save your business contact information, resulting in more confidence.
Advantages and disadvantages of a WhatsApp verification badge
Advantages
✅ Indicates to users that the account is authentic and secure to interact with, resulting in increased engagement and fewer negative actions like blocking the WhatsApp phone number.
✅ Your brand name will be displayed rather than your phone number.
Disadvantages
✅ To apply, a WhatsApp API account is required.
✅ It can be difficult to obtain a green tick verification badge.
Green Tick or an Official Business account
WhatsApp is searching for innovative methods to connect customers with the businesses they care about. Once WhatsApp confirms that your phone number belongs to a business, a green tick badge ✅ will display next to your profile picture. This badge indicates that WhatsApp has verified your phone number.
To apply for the Green Tick badge, you must first be approved for WhatsApp Business APIs. Only a small number of businesses meet WhatsApp's criteria for an official business account. WhatsApp usually grants a Green Tick or an Official Business account to only the most reputable and trustworthy businesses.
Types of WhatsApp business accounts
There are two distinct types of business accounts on WhatsApp: Official Business Account and Business Account.
✅ Official Business Account
When an official business account is verified by WhatsApp, it confirms that the account is owned by a genuine and well-known brand. If your WhatsApp account is an official business account, the chat list, chat screens, chat groups, and contacts view will display the account's name rather than the phone number. Additionally, a green checkmark will appear next to the displayed name in the contacts view.
✅ Business Account (Has API access, but no Green Tick)
Any account utilizing the WhatsApp Business API or WhatsApp Business App is classified as a business account. WhatsApp authenticates every brand for each account on the WhatsApp Business API. If your WhatsApp account is a business account, only the display name will appear in smaller text in the contacts view; in all other views, the phone number will be displayed. You may provide customers with more information about your business by completing your business information, including your business website, address, and operating hours.
Here are the steps to apply for a Green Tick on WhatsApp

Business Solution Provider
Begin by applying for WhatsApp API access via a WhatsApp Business Solution Provider (BSP), such as WATI

Once your WhatsApp Business API access is granted, you can contact your BSP to apply for the Green Tick badge.
However, if your business is not reputable, the green tick application may be denied. WhatsApp retains the authority to approve your green tick, and the BSP has no involvement in the process.
How to verify a WhatsApp business account?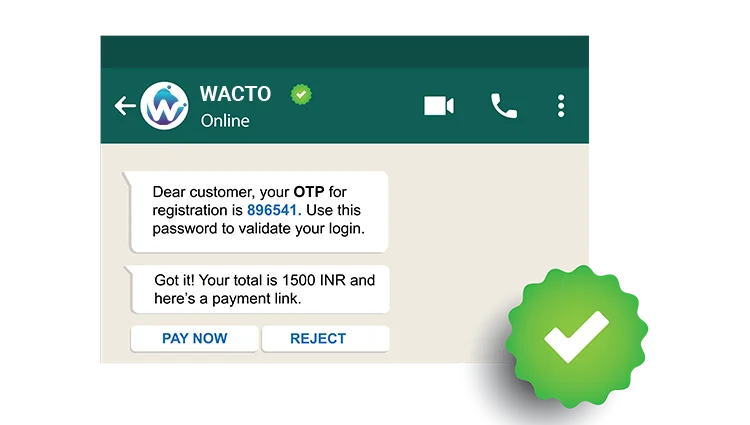 frequently asked questions
FAQs