Automate Your Online Store with India's #1 Conversational Engagement Platform
Maximize lead generation, qualify potential customers, enhance discovery, distribute product catalogs, facilitate shopping, process payments, increase upselling and cross-selling opportunities, and boost revenue with the
best conversational commerce solutions that drive sales.
Create Marketing Campaigns That Convert
Sell More With One-On-One Buying Assistance

Grow order value with consultative sales
Increase the order value through consultative sales. Offer appropriate cross-selling and upselling suggestions to customers on WhatsApp, Instagram, and other channels with the help of AI-powered bots.

Build persuasion with product catalogs
Create trust and boost sales with product catalogs that can be displayed across multiple channels. Help customers make informed decisions by sharing comprehensive product information, reviews and ratings.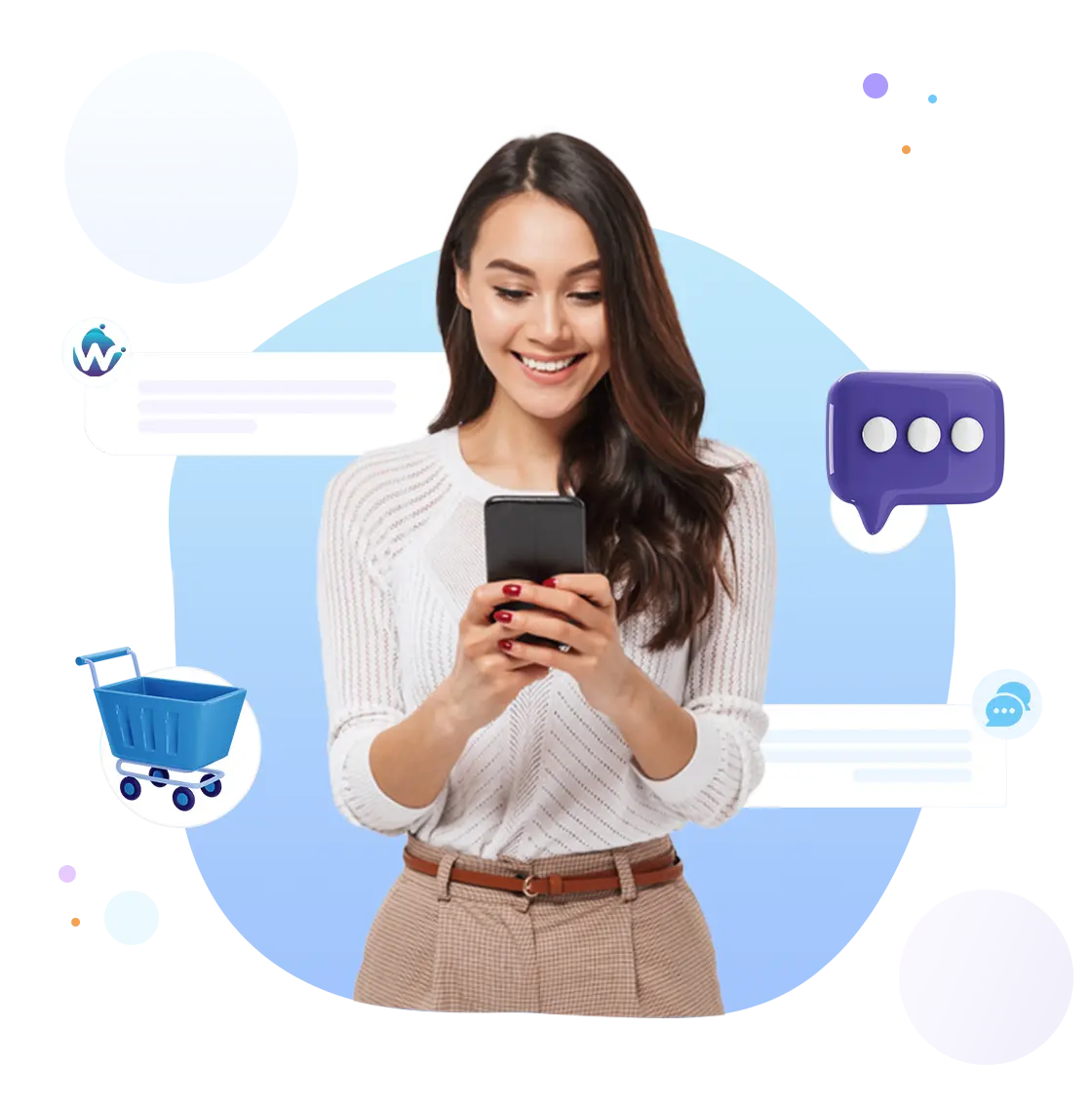 Reclaim abandoned carts and searches
Retarget abandoned carts and searches by sending automated alerts for different abandonment situations via WhatsApp, email, Instagram and Facebook messenger to significantly decrease drop-off rates.

Enable easy and quick payment
Facilitate quick and hassle-free payments by integrating with popular payment gateways or enabling in-app payment options like WhatsApp Pay, resulting in increased sales and a seamless user experience.
Provide Effective Support And Grow CSAT With Real-Tme
Provide post purchase assistance
Offer after-sales support to customers by providing them with order updates and real-time tracking information, addressing
service requests, gathering feedback, and facilitating smooth connections with live agents.
Interpret customers' messages like live agents
Grasp the intention behind customers' messages and reply suitably by comprehending the context and sentiment.
Manage reputation on social media efficiently
Efficiently manage your brand's reputation on social media by converting every comment, mention, and tag on Instagram
and Facebook into a private conversation. This allows you to handle negative feedback proactively and respond appropriately.
Quickly resolve queries & issues
Address customer queries and issues promptly by allowing them to make refund, return, cancellation, plan renewal
Frequently Asked Questions
What is conversational commerce?
Conversational commerce is a strategy used by businesses to market and sell their products or services by utilizing human conversation. The aim is to move beyond the traditional transactional approach of impersonal selling by using low-friction communication channels to inform, persuade, convince, and assist customers. This involves the use of chatbots, voice assistants, and messaging platforms to create a personalized experience for customers. Conversational commerce enables businesses to take customers on a two-way conversational journey through the purchasing process, allowing them to discover products, place orders, make payments, and track orders, all through a familiar messaging interface. By employing conversational commerce, businesses can increase their revenue, improve customer satisfaction, and optimize operational costs.
What are the benefits of conversational commerce?
In addition to increasing sales, conversational commerce provides businesses with a range of additional benefits. With the use of WACTO, businesses can:
• Expand their market reach through the development of "chatbot shopping".
• Establishes a direct personal connection with your customers.
• Engage and respond to customers during important moments.
• Transform messaging into a sales channel.
• Provide personalized and conversational online commerce experiences.
What are the use cases of conversational commerce?
The goal of conversational commerce is to improve the customer experience by providing them with direct communication with a brand whenever necessary. The applications of conversational commerce can be seen throughout the entire customer journey, including marketing, sales, and support. For instance, if a direct-to-consumer brand wants to maximize its return on advertising investment on Instagram, running a click-to-chat ad that encourages customers to converse before making a purchase decision can be helpful. Integrating these ads with well-designed chatbots can resolve any uncertainties or doubts that customers may have and encourage them towards conversion. This not only increases the return on investment but also promotes brand loyalty due to the customized experience. Similar applications and use cases can also be developed for post-purchase customer journeys such as product recommendations, order tracking, and complaint resolution.
Why is conversational commerce better than mobile apps?
While mobile app-based commerce has been in existence for some time, the vast number of available applications makes it challenging for businesses to succeed with a storefront on an app, since users can only download a limited number of them. Additionally, app-based experiences may not be effective for complex products or consultative sales where customers prefer to communicate with the seller before making a purchase or booking an appointment. To address these challenges, conversational commerce provides a solution that enables businesses to connect with customers in a personalized, dialogue-driven way via any messaging app, at every stage of the customer journey.
What are the benefits of WACTO conversational commerce platform?
WACTO, a conversational commerce platform, offers a simplified approach to creating the entire customer journey on a single messaging interface. This interface allows businesses to guide prospects and lead them towards conversion, provide new customers with deals, and address issues for existing customers. As a result, the platform offers a robust solution for increasing sales, streamlining transactions, enhancing the commerce experience, and promoting customer loyalty. Additionally, the platform supports AI-powered chatbots to enable businesses to scale their customer interactions.