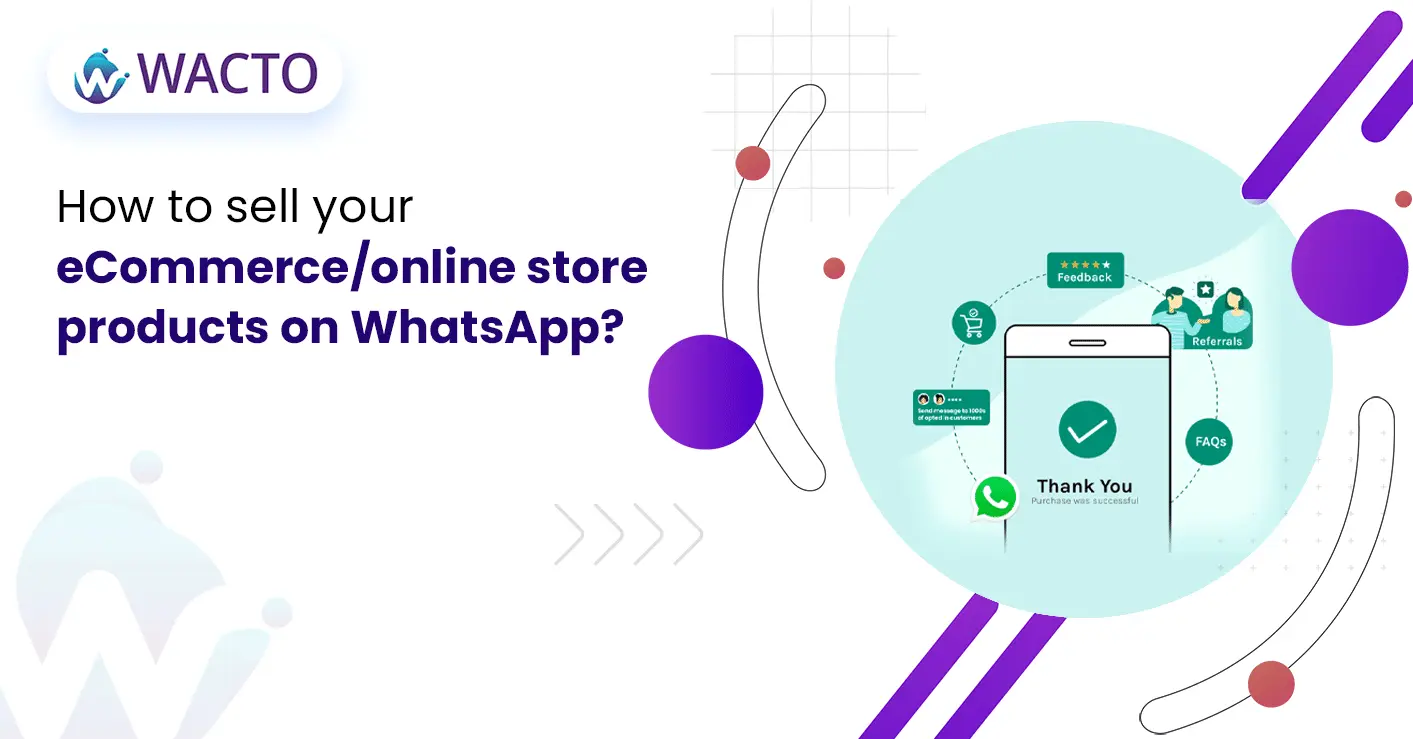 How To Sell Your ECommerce/Online Store Products On WhatsApp
In today's digital age, WhatsApp has emerged as one of the most popular messaging apps globally, with over 2 billion active users. It provides an opportunity for eCommerce and online store owners to reach their customers directly and sell their products through WhatsApp. In this blog, we will discuss how to sell your eCommerce/online store products on WhatsApp.
Step 1: Create your WhatsApp Business Account
The first step in selling your eCommerce/online store products on WhatsApp is to set up your WhatsApp Business Account. WhatsApp Business is a free app designed for small businesses that allows them to interact with their customers, automate messages, and create a business profile. Once you download the app, follow the instructions to set up your account.
Step 2: Create a Catalogue
To sell your products on WhatsApp, you need to create a product catalogue. This can be done through the WhatsApp Business app or using third-party tools like Shopify, WooCommerce, or Magento. Make sure to add high-quality images, descriptions, and prices for each product.
Step 3: Share your Catalogue
Once you have created your product catalogue, share it with your customers on WhatsApp. You can do this by sending a message with a link to your catalogue or by sharing your catalogue as a PDF file. WhatsApp Business also allows you to create quick replies and automated messages that can help you respond to customer queries efficiently.
To sell your products on WhatsApp, you need to be able to accept payments. WhatsApp Business currently supports payment options in select countries like India, Brazil, and Indonesia. If you are not in one of these countries, you can still accept payments through other payment gateways like PayPal or Stripe.
Once you start receiving orders through WhatsApp, make sure to manage them efficiently. You can use tools like WhatsApp Business API or third-party apps like Orderhive or Zoho Inventory to manage your orders and keep track of your inventory.
Best Practices for Selling on WhatsApp
Be Responsive: Customers expect quick responses when they message a business on WhatsApp. Make sure to respond promptly to customer queries and messages.
Personalize your Messages: Use customer names and personalize your messages to create a more personalized experience for your customers.
Use Multimedia: Use images, videos, and gifs to showcase your products and create a visually appealing catalogue.
Offer Discounts and Deals: Use WhatsApp to offer exclusive discounts and deals to your customers, creating a sense of urgency and encouraging sales.
Follow-up: Follow-up with customers after they make a purchase to ensure that they are satisfied with their product and experience.
Selling your eCommerce/online store products on WhatsApp can be an effective way to reach your customers directly and increase sales. By setting up a WhatsApp Business Account, creating a product catalogue, and accepting payments, you can start selling your products on WhatsApp today. However, make sure to follow best practices like being responsive, personalizing your messages, using multimedia, offering discounts and deals, and following up with customers to create a seamless and personalized experience for your customers. With the right strategy and tools, WhatsApp can be a powerful tool for eCommerce and online store owners to reach and engage their customers, leading to increased sales and business growth.